Neuleiningen was one of the many fortresses that belonged to the powerful Leiningen family in the Pfalz region. 

Right, a view of the town as approached from the southeast.  The photos on this page were taken in 2008.

Here is the GoogleEarth link for the castle.  I'm doing this as an experiement and may include these for all of the castles on this site in the near future.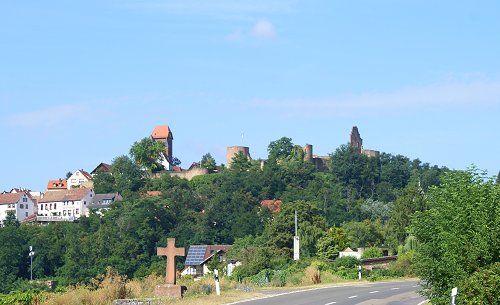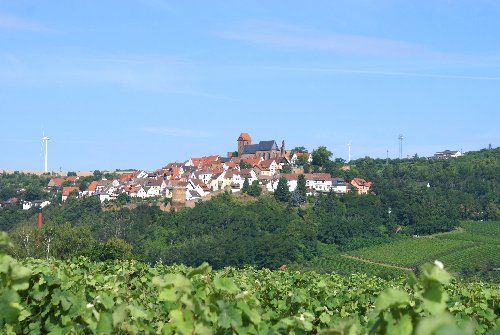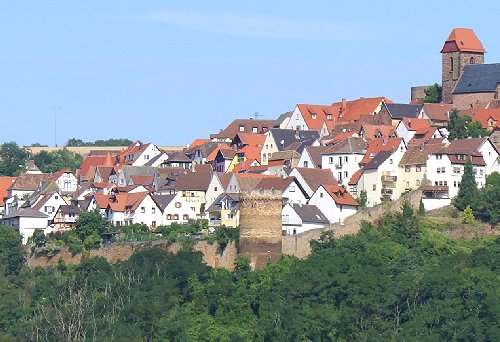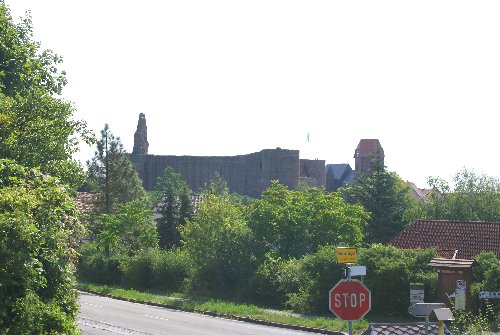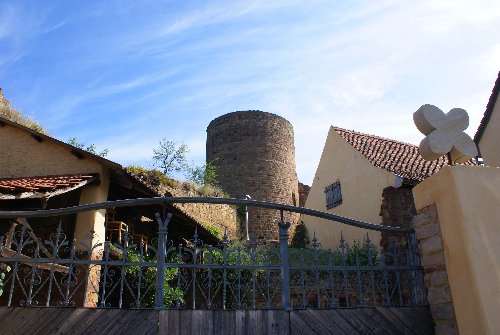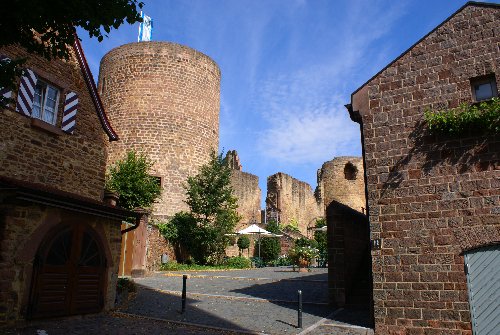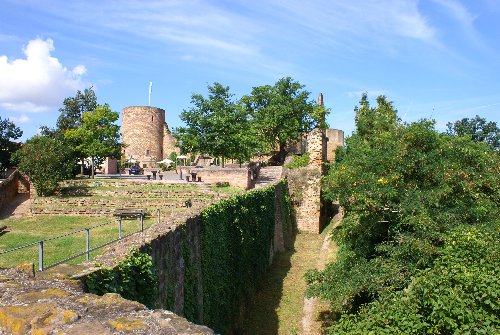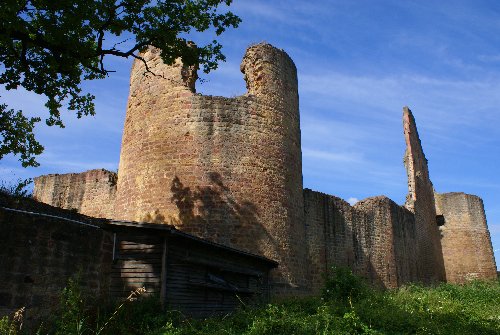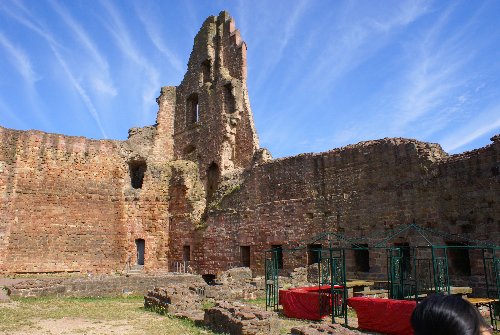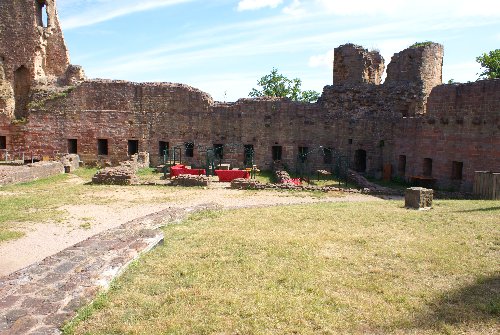 The castle grounds are actually quite extensive, even though large portions of the structure are no longer extant.  The photo at left shows some of the extended grounds of the fortress, parts of which have been converted to a playground for children.

This photo shows a portion of the castle that took considerable damage from French troops.  The towers, save for one, appear to be empty, having no extant floors or stairs.

A view within the inner ward looking to the palas.  The remains of this section of wall demonstrate how extensive the structure once was.  There appears to have been at least four distinct levels, all constructed with wood for the floor of each.  The mountings for the joists can be barely seen.

Below, a view within of the same section as seen in the photo above left.  The grounds demonstrate that there was also extensive housing and service facilities within the inner ward.

We parked to the northwest of the castle in a small lot, and then walked to the castle, here seen in the distance.

Right, a view of one of the towers of the castle, with some of the houses below.  Neuleiningen is a classic example of the castle positioned centrally with middle class merchants and craftsmen residing about, all contained within a defensive wall.

Right, a view into the outer ward of the castle.  The area around the castle is also a well-known wine producing center, and the various wineries host wine-tasting events.

Neuleiningen was built in 1237 by Graf Friedrich III and was largely completed in a few years.  In the 1350s, the castle was expanded into a fortress.  The castle was destroyed during the Peasants War in 1525.  Rebuilt, the castle and town suffered heavily during the Thirty Years War.  The castle was later occupied by French troops in 1688, and was burned by these same troops prior to evacuating the site in 1690.  The castle remained a ruin thereafter, with much of the structure being pilfered by local towns people to build their own homes and businesses.  Today, the ruins have received some restoration to prevent further decay.  However, this doesn't leave much to explore.

Left, two more views of the town of Neuleiningen, with the castle and church dominating the top of the hill.  The photo at lower left shows the outer wall of the town's fortifications and one of the towers.